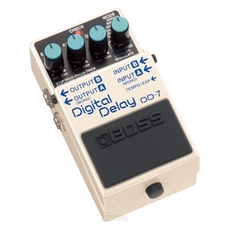 With a vast array of sounds and controls, including tap tempo and an amazing analog delay emulation, the Boss DD-7 might be the last delay pedal you ever buy.
Few companies know how to make affordable, good sounding effects pedals like the people at Boss (a division of Roland). This is the company that brought us the Boss DS-1, OD-1, and a host of other classic pedals. They're also the company that brought us the first digital delay pedal, the DD-2. At the time, the DD-2 was an incredible feat, shrinking the sound of the heralded Roland SDE-3000 and putting it into pedal form. As is always the case, the DD-2 evolved, adding some treasured features and losing others along the way. The most current ancestor is the Boss DD-7, a digital delay pedal that possibly might be the only delay pedal you'll ever need.
A stereo input/output pedal, the DD-7 also has an external tap tempo function (omitted in the DD-6 and brought back after significant user complaint). It sports eight different delay modes, four based on simple time selection (from 50ms to 3200ms). A hold function is standard, as are reverse, analog, and modulate modes.
The strength of the DD-7 is its versatility. The tap tempo allows you to subdivide the notes into a variety of different note values and wisely uses an external footswitch to control the tapping. Like all recent Boss delays, the digital sounds are crisp and clear, though not without a certain degree of musical warmth. Perhaps the most welcome mode is Analog, which strives to sound like a vintage analog delay. The reverse mode works as expected, though its usage is fairly limited unless you're into the psychedelic. The modulate mode, which adds simulated tape "warble" is quite good and would fool anyone except perhaps Eric Johnson. Even the "regular" digital delay modes lack the sterility one often associates with digital delays.
As a digital delay aficionado, I'm very impressed with the Boss DD-7, so much so that I can't think of a single thing that could be done to improve its performance, unless the power consumption could be lessened (you'll want an external power supply as it consumes batteries at an exponential rate). For the price and its limited footprint, you can't do much better than the Boss DD-7 Digital Delay.