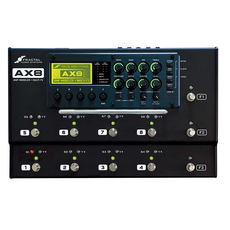 Intro
There once was a time where a producer would have balked if you'd shown up with a digital amp simulator to record a session or when a live audio engineer would have looked at you cross-eyed if you'd asked to run direct. Those days are definitely in the past. One of the big game changers with respect to digital amp modeling was Fractal Audio and the Axe-Fx. The venerable Axe-Fx has come a long way and one product that users begged for from the beginning was an all-in-one floor version. The gurus at Fractal listened. Enter the Fractal Audio AX8. How does it stack up to its rack-mounted counterparts?
The AX8 uses the same modeling technology as its big brother, the Axe-Fx II. The sounds are the same, but the AX8 has less CPU power than the Axe-Fx. Practically, that means that you can't run parallel amp signal chains, but that's not really the target market for the AX8. It's geared primarily for live gigs where floor space is at a premium, and you might not want to haul around $3,000+ of Fractal gear (e.g. Axe-Fx II + a foot controller).
Specifications
The AX8 features 222 amp models as well as over 130 factory cabinet models. There are 512 user slots available for other cabinet models, including Fractal's own cab packs.
The number of effects included are mammoth, including nearly 30 overdrive models, 19 types of reverbs, shimmer and crystal effects as well as a mono guitar synth. The usual suspects are here as well, including flanger, chorus, phaser, EQ, vibrato, harmonizing, compression, tremolo, univ-vibe, and countless delays. A tuner and looper are included as well.
The level of connectivity included is professional quality, with XLR, 1/4″, and S/PDIF outputs as well as FX send and return to incorporate other outboard gear. A USB port is standard (for interfacing with the AX8 software – unlike the Axe-Fx, USB-based recording is not an option) as are 4 expression pedal jacks. MIDI In and Out are also included. And no wall wart here – a rugged internal power supply eliminates the need for one. Unfortunately, a headphone jack is not included. The good news, though, is that the board is the same size as the stage-friendly FX8: 16″x10″x4″. The build is solid, definitely professional level "feel." And like the FX8, the LED-equipped knobs are a godsend on a dark stage.
Performance
I have a regular church gig where the stage space is pretty cramped. I had been using an Axe-Fx coupled with an MFC-101 pedalboard, but it was a tight fit. For a few weeks I've been using the AX8 instead, and I can say that it's a vast improvement with respect to the "real world" concern of space and weight. Honestly, I haven't missed the Axe-Fx at all in this environment.
Like its big brother, the amount of available options is staggering to say the least. My personal needs are simply – I tend to lean towards overdrives, mid-level distortion, compression, and delays. None of these effects disappoint. Honestly, nothing much does in the AX8. There are a few areas for improvement. There's some noticeable lag with the harmonizer, so using it as a Whammy Pedal-like detune effect isn't really an option, though the quality of the delays, reverbs, and other effects more than compensate.
The update to the "Quantum" firmware a while back was also a huge step forward for Fractal, and the AX8 inherits the Axe-Fx update. The feel, sound, and response and elevated to an even higher level. Fractal would be justified in charging for updates like this (SHHHH!), but to offer them for free even makes the AX8 more attractive.
It's important to keep in mind that the AX8 is designed with live performance in mind, though with the included output options it can easily interface with a sound card. Unlike the Axe-Fx, audio over USB is not an option. The USB port is reserved for firmware updates and interfacing with the free AX8-edit software. While you can edit patches and other parameters on the small LCD screen, it's a bit torturous to do so. The AX8-edit software, while intimidating at first, is powerful and not really difficult once you get used to it. There's also Cab-Lab software to edit IRs, thought not free (but affordable).
Final Thoughts
For someone who wants the sounds of the Axe-Fx II in a portable package, the AX8 delivers. I no longer gig with my Fractal and opt for the AX8 or Helix depending upon the gig (both are killer units). For the price, it's hard to resist. The AX8 is a gigging guitarist's dream rig. Hopefully when there's an AX8 II Fractal will remedy the few deficiencies (e.g. headphone jack) that are present in this inaugural model.
Name of Gear: Fractal Audio AX8
List Price: $1099.99
Manufacturer Info: fractalaudio.com
Pros: Incredible quality of amps and effects; small form factor
Cons: No headphone jack; some lag in the harmonizer effect.