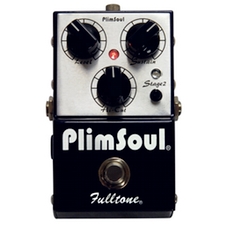 Given its size, cost, and tonal flexibility, the Fulltone Plimsoul is a "must buy" for musicians looking for maximum "bang for the buck."
In the world of effects pedals, the name Fulltone carries a good deal of weight, and rightly so. Nearly ever pedal Mike Fuller puts his name on becomes a winner, especially in the overdrive department. After all, this is the company that gave us the Fulldrive, OCD, '69, '70, and Soulbender pedals. So, it's safe to say that Fulltone knows overdrives. As a result, when Fulltone announces a pedal that they claim fills a void in the overdrive/distortion department, it's worth listening. The pedal? The Fulltone Plimsoul.
The Plimsoul is a pedal that allows you to obtain two types of overdrive/distortion sounds. You can have "soft-clipped" overdrive, like the Tube Screamer, Fulldrive 2, and Blues Driver as well as "hard-clipped" distortion like an OCD, Boss DS-1, or ProCo Rat. There's more, though. Not only can you have both sounds in the same pedal, you can actually blend the two. You can have 100% soft-clipped, 100% hard-clipped, or any blending of the two.
Having used the Plimsoul with a variety of amps and A/B'd it with a couple of OCD's, I can definitely agree that the Plimsoul fills a need. If you're a Fulltone fan, you're probably wondering how it compares to, say, an OCD. I would describe it like this. The OCD accentuates the harmonic richness of a good tube amp, whether it's clean or dirty. The Plimsould transforms the amp into a whole new beast. I tried it with both a Peavey Classic 30 and a Carr Rambler, and both amps took on a new personality when paired with the Plimsoul. Both Strats and Les Pauls sounded great, and the pedal can really take a clean tube amp and make it sound like a 100 watt Marshall. It's one of the best pedals I've heard in a while and certainly the most versatile. Given its size, cost, and tonal flexibility, the Fulltone Plimsoul is a "must buy" for musicians looking for maximum "bang for the buck."