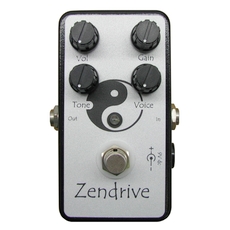 If you want a responsive, creamy, smooth overdrive that can help a clean tube amp cop those "D" amp tones, the Hermida Audio Zendrive is your pedal.
It seems that the Internet (especially discussion forums) and so-called "boutique" guitar gear were made for each other. You can't visit certain sites without people debating the "transparency" of this or that pedal. Some of the debate and discussion is based in reality. A lot of it, though, is based on hype. One common discussion is whether it's possible to get a pedal that cops the "Dumble" tone. For those of you who don't know, Howard Dumble built a few amplifiers that have been used at one point by SRV, Eric Johnson, Robben Ford, and Larry Carlton, among others. They're also extremely rare and very expensive (as in $50,000 for a used Dumble head). So, if you can find a "Dumble in a Box," you've got something. For many people, the Hermida Audio Zendrive is the ultimate "Dumble pedal." Does it live up to the hype?
The Zendrive is a small-ish pedal (roughly the size of a standard MXR pedal) and features controls for volume, gain, tone, and voicing. The first three controls might seem obvious in their usage. The "voice" knob shifts the range of the midrange, effectively changing the "sweet spot" of the pedal's overdrive. In my tests (with both a Gibson Les Paul and Fender Eric Johnson Strat through a reissue Fender Deluxe Reverb) the Zendrive delivered beautifully smooth, rich, sustained overdrive from the 10 o'clock to 1 o'clock positions (it got a little noisy and less defined above that).
The best way I can describe the sound of the Zendrive is just by dropping some names - Eric Johnson and Larry Carlton. It's not for metalheads, but if you want a responsive, creamy, smooth overdrive that can help a clean tube amp cop those "D" amp tones, this is your pedal. Not only does the Zendrive clean up well with the guitar's volume knob. It actually cleans up well depending on how hard you pick the strings. The harmonic quality of the Zendrive is broad and the dynamics are very amp-like. It sounds good both with lead lines and complex chords. For the price, it's hard to beat this "Dumble in a Box."