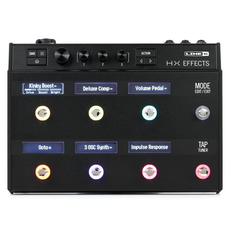 Intro
Ever since Line 6 introduced their first line of stompboxes (all of which are still in production by the way, including the now classic DL-4), they have been a significant player in the effects pedal business. The M-series (including the super popular M5) only cemented their place in the industry. With the introduction of the Helix pedalboard in 2016, Line 6 once again became a major player, and with their ears constantly tuned to player needs, it was only a matter of time before they released an effects-only version, which they have. Enter the Line 6 HX Effects.
Specifications
You can think of the HX as stripped-down version of the Helix (or even Helix LT). The HX currently has over all 117 Helix effects plus 77 "classic" Line 6 stompbox available in its relatively small 11″ x 8″ package, weighing at just shy of 5 lbs. In short, there are enough overdrive, distortion, modulation, delay, and harmonization effects to satisfy even the most demanding effects connoisseur. The rear ins and outs include parallel stereo routing, dual effects loops, two expression pedal inputs, as well as 8 touch-sensitive switches with color-assignable rings and "scribble strips," items that made that helped bolster the Helix's popularity. There are also MIDI in and out/thru jacks.
Performance
The original Line 6 Helix was a gamechanger and upped the ante in many ways (as the company did with their original line of stompboxes). While companies like RJM and Liquid Foot offered assignable color displays, it was the Helix that made touch-sensitive footswitches and "scribble strips" a household word for guitar players. The HX inherits these advancements and at an incredibly affordable price, around $600 street.
Having owned a Helix since they first came out, I think the HX does a great job in offering quality Helix effects in a small, affordable package. The routing options are really flexible, so no matter if you're using the so-called "4-cable method" or running straight into the front end of an amp, you can get some first-rate sounds with the HX. Having owned many "legacy" Line 6 effects in the past, I was pleased that you can also access classic sounds from the DL4, MM4, and FM4. MIDI and relay switching are also included, so you could conceivably use the HX to control not only other effects but your amp rig as well.
At this price, it's hard to complain about anything, but I will say that I have little love for the wall-wart power supply. C'mon Line 6! It's 2018. Sure, we don't have flying cars yet, but isn't it time to relegate brick-sized power supplies to the ash pile of history? Unfortunately, the HX also has too high a draw to be powered by, say, a Voodoo Lab Pedal Power unit, so be prepared to have an extra plug available if you're the HX to a pedalboard setup.
Final Thoughts
Despite these relatively minor complaints, the HX is another game changer from the folks at Line 6. It offers an incredible amount of sonic flexibility for the money and could easily serve as a pedalboard replacement for many or fly gig pedalboard for professionals.
Name of Gear: Line 6 HX Effects
Street Price: $599.99
Manufacturer Info: line6.com
Pros: Incredible value; wide range of sounds; high quality effects options
Cons: Clunky power supply