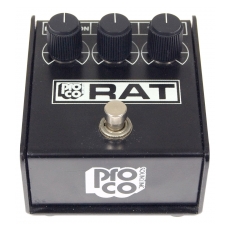 For blues, rock, and fusion tones that require a versatile overdrive and distortion, it's hard to beat this reissue RAT.
The ProCo RAT distortion will always have a special meaning to me (cue schmaltzy music here). It was my first effects pedal, and it rocked. I also had one that would now be considered "vintage," since I got in 1985. I foolishly got rid of the pedal to fund some other less-worthy gear purchase. I've always want to land another of those mid 80's RATs because they had something that later incarnations just didn't. Recently ProCo has introduced a "Whiteface" reissue RAT. When I first heard, I was elated, then the elatedness turned into skepticism. I've played some "reissues" that were just absolute jokes. Plus, I have to be honest. The RAT distortions I've played the last couple of years just haven't been that good. I tested the pedal with cautious optimism.
On the surface, ProCo definitely got the details right. The chassis looks and feels the same. Though I never looked inside my original, I know what it did have, and the reissue is right on the money. It uses the same pots and, most importantly, the LM308 chip as well as true bypass.
The RAT is one of the most simple pedals you'll ever use, with controls for Distortion, Volume, and the often-misused Filter. Just like the original, the distortion control allows the RAT to really take on different personalities, depending on where you've placed it. That's why the RAT has been used by blues, rock, and jazz players alike. It's incredibly versatile. The Filter control is like a tone control in reverse. Turning it clockwise results in less treble, but if you need cut through the mix, you'll want to roll it counter-clockwise.
Being a bit more versatile player now that I was in 85, I'm amazed at how many tones the RAT can achieve with very minimal effort. I tried it out in rock, blues, and jazz settings, and it was useful in all contexts. This is a box that can provide overdrive, distortion, or fuzz, depending on how you use the controls. It's incredidly versatile and works with a wide variety of amps, but it can really transform a clean amp into a molten monster if needed. I took it to a gig with a Peavey Classic 30 and was amazed at how good it sounded. It made the Peavey sound like a Marshall with minimal effort. I found it capable of getting sounds useful from Scofield to EJ. Very nice.
In the end, the Pro Co '85 Whiteface RAT reissue doesn't sound "like" the real deal. It is the real deal. For blues, rock, and fusion tones that require a versatile overdrive and distortion, it's hard to beat the reissue RAT from Pro Co.