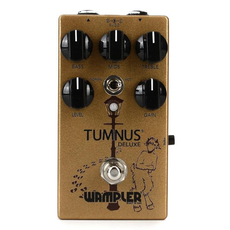 Intro
Without question, there is no piece of guitar gear more hyped and sought after than the much-celebrated and copied Klon Centaur overdrive. Whether this myth is by design or by accident is up for debate, but the reality is that the Bill Finnegan Klon has become the standard by which so-called "transparent" overdrives have been measured. The downside is that if you don't already own one it'll set you back at least $2k (with some going as high as $4k), which has led to the creation of numerous "Klones," pedals that have attempted to unlock the magic behind the Finnegan Klon overdrive (with varying degrees of success).
One company to throw its hat into the ring is Wampler Pedals, known for its high quality gear, especially their overdrive and distortion pedals. The original Wampler "Klon" was the cleverly named the "Tumnus," after one of C.S. Lewis's characters in "The Chronicles of Narnia" (Tumnus was a faun, hinting at the pedal's relationship with the Klon Centaur) and was a mini-pedal with controls for volume, gain, and tone. The Tumnus Deluxe ups the ante with more available features. Let's take a look at the specifics.
Specifications
The Tumnus Deluxe has all the sounds of the original mini-Tumnus but with much more versatility. As opposed to a single treble control of the original, the Deluxe model has separate controls for Bass, Mids, and Treble. The type of bypass is also selectable: buffered bypass or true bypass. There's also a Normal/Hot switch if you want to access more gain. The jacks are also top mounted to conserve precious pedalboard space.
Performance
Not only have I owned and played through many quality "Klones" in my day, I actually owned an original Finnegan Klon for many years, so I have a broad perspective on judging pedals that claim to nail the classic Klon tone. The original Tumnus pedal (a "mini" pedal that preceded the full-size iteration) nailed the Klon sound as good or better than any clone I've ever used. Not one to rest on his laurels, Brian Wampler decided to make a good pedal even better by providing more usable options. As an owner of an original "mini" Tumnus, I can say without hesitation that the beloved original Klon tones are here, but with an expanded tonal palette. The new tone controls (bass and mid) do not affect the tone when set at 12 o'clock, so they can either boost or cut those frequencies.
Like the pedal it's inspired by, the Tumnus can function equally well as a boost, an overdrive, or as a means to push an already-overdriven amp. Depending upon the setup, I tend to use the Tumnus as an "always on" tonal modifier or as a not-so-clean boost. I know the word is overused with respect to overdrives (especially Klon-inspired pedals), but it truly is a "transparent" overdrive, i.e. it makes your original tone just "bigger" and more round. I tested it with a PRS Sonzera and Dr. Z MAZ 18 Jr. NR and it shone in both circumstances. It plays well with over overdrives, and I even used it in the effects loop of my Line 6 Helix – it sounded great! The Tumnus (along with the Rockett Pedals Archer) is one of my go-to Klon-inspired pedals. Combined with a Wampler Euphoria you can nail two of the most sought after guitar tones around (the Klon + Dumble). Some might think $200 is a bit pricey for an overdrive, but given what the Tumnus offers, it's well worth it.
Final Thoughts
As a Klon pedal aficionado, I think the Wampler Tumnus Deluxe stands near the front of a crowded line of Klon imitators. The strengths of the pedal are not only its ability to nail the classic Klon tone, but to expand upon it in useful and powerful ways.
Name of Gear: Wampler Tumnus Deluxe
List Price: $199.97
Manufacturer Info: Wampler Pedals; wampler pedals.com
Pros: Nails the Klon tone; versatile.
Cons: None