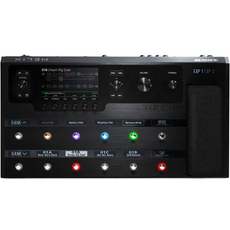 Intro
Although Line 6 didn't invent amp modeling, they popularized it many years ago with the introduction of the AxSys 212 modeling amplifier and with the groundbreaking POD series. Since that time, other manufacturers have jumped on the modeling bandwagon, with many high end players such as Fractal Audio and Kemper upping the ante in terms of both hardware and software quality. For a while, it seemed as if Line 6 had been left behind.
Enter the Helix.
With a name that is obviously a nod to one of their main competitors, the Helix is one of those products that redefines what is possible in the world of amp and effects modeling. With both floor and rack-based units available, the Helix aims to be a game changer in the ever-expanding world of digital guitar gear. In short, this ain't your daddy's POD.
Specifications
The Helix sports dual DSP-powered modeling with 1,024 presets available. At the time of this writing, there are over 60 guitar amps available, 104 effects, 13 bass amps, 37 cabs, and 16 mics, as well as a 60 second mono/30 second stereo looper. User IRs are also supported. A massive 6.2″ LCD display makes editing a breeze, though the available Line 6 HX edit makes it even easier.
There are 12 touch-sensitive footswitches (yes, touch-sensitive) that facilitate on-the-fly editing. The footswitches also contain assignable color rings and fully customizable LCD "scribble strips" for each effect. A user-assignable expression pedal is integrated along with two extra expression pedal jacks. Relay switches are also included for control of external amplification is needed.
The I/O options are incredible, with 10 inputs and 12 outputs with 4 effects loops (!) making integrating existing effects a breeze. S/PDIF, AES/EBU, MIDI In/Out, and L6 Link digital output are also included. A Line 6 Variax input is also included as is a headphone jack.
The Helix can also function as a fully integrated audio interface with 8 ins and 8 outs via USB. A mic-level XLR input is also included.
The construction was designed with the touring professional in mind, with a brushed-aluminum top and rounded edges
Performance
The first time you power up the Helix, it's tempting to be intimidated. But the moment you start cycling through some of the included (and usable) presets, you realize that the Helix is a ground-changing piece of gear from the Line 6/Yamaha team. Supposedly, the Helix team was given carte blanche to design the ultimate guitar modeling processor. Don't cut corners. Make it the best.
Whether someone thinks that the Helix is superior to other high-end offerings from Fractal Audio and Kemper is up for debate, but as someone who has used all of these products (and personally owns them), I can say without hesitation that the Helix can stand toe-to-toe with all of them.
The first thing you'll likely notice about the Helix is its aesthetic appeal. From the LED equipped footswitches to the full color LCD panel and brushed aluminum finish, the Helix is an attractive unit all around. But this design all serves a practical purpose – to aid the performing and recording musician. The aesthetics serve a real-world function, i.e. to make calling up the right tone quick and painless.
Speaking of tone, all of these bells and whistles wouldn't mean a lot if the Helix didn't sound good, so how does it stack up to its professional peers? In short, very well. I've used the Helix in a number of live gigging situations, and I think it stands toe-to-toe with current offerings from Fractal and Kemper. Some of my favorite models include the US Deluxe (Fender Deluxe Reverb), Essex A-30 (Vox AC-30 with Top Boost), Solo Lead OD (Soldano SLO-100), and Placater (Friedman BE-100). Paired with with a set of QSC K10.2 monitors, the Helix sounded like the real deal. The effects are what you've come to expect from Line 6, but it's really the amp models that stand out. These aren't the same re-packaged POD models that Line 6 milked for years. This is a truly professional unit in every single way.
The signal routing and I/O options are dizzying at first, but I was able to integrate a few of my favorite overdrive pedals easily into the Helix system. For a gigging variety or even worship guitarist, the Helix is a real godsend. It really is an all-in-one pedal solution. The ability to load user IRs is also a welcome feature.
The Helix is also a superb recording solution, with high quality USB audio. I recorded a few demos using a MacBook Pro and Apple's Logic softare, and the Helix integrated very well.
Final Thoughts
It would take several pages to do a fully exhaustive review of the Helix, but suffice it to say that this is a pro quality amp and effects modeling unit that has raised the bar to a high level. The Helix is a game changer and one that has made Line 6 once again a major player in the ever-increasing world of digital modeling.
Name of Gear: Line 6 Helix
List Price: $1,499.99
Manufacturer Info: Line 6; line6.com
Pros: An incredibly versatile number of high quality amp, effect, cabs, and microphone models; world-class construction
Cons: Learning curve
Find your new or used Line 6 Helix for sale on eBay today!